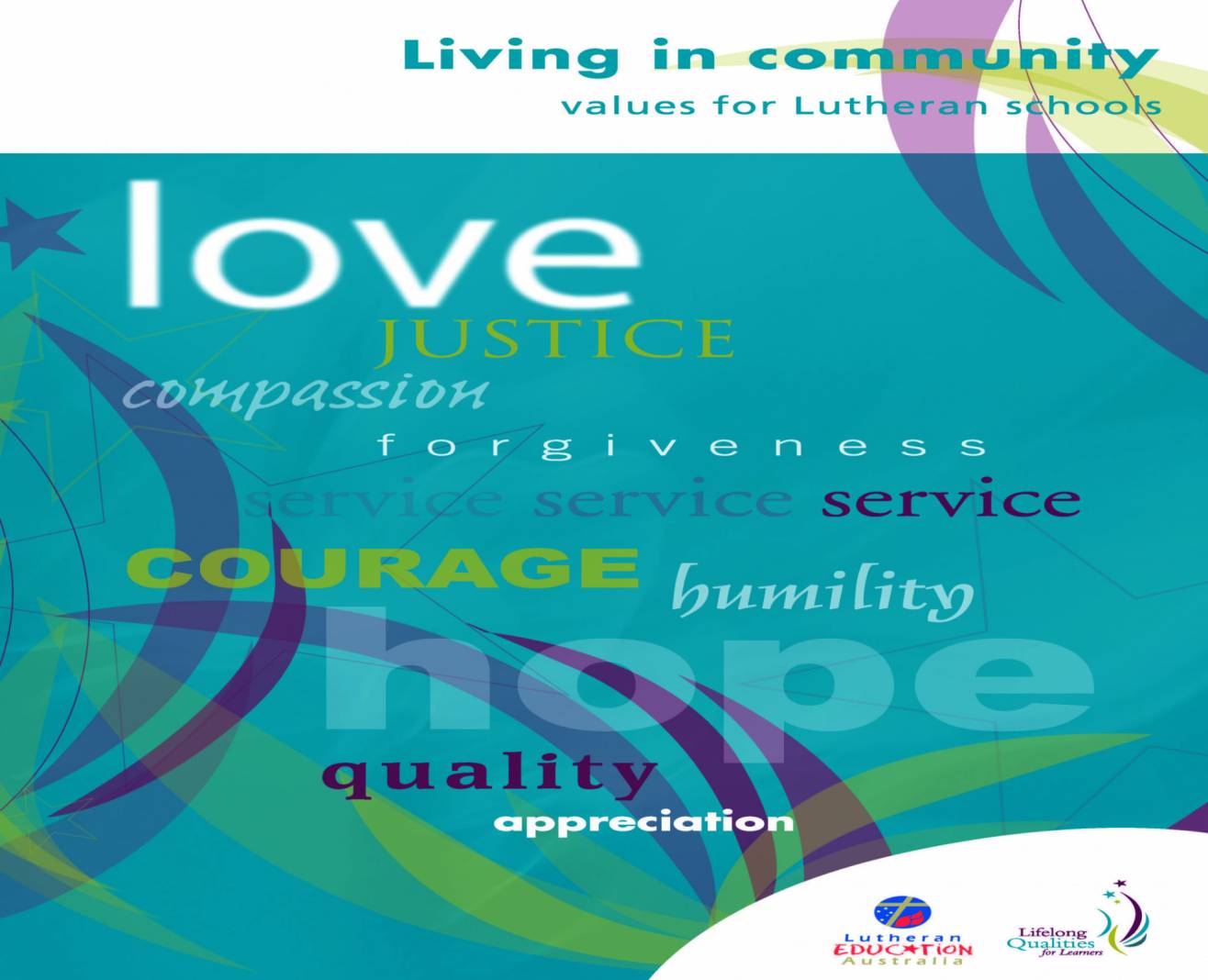 Vision, Mission and Values
School motto
Loving God, Loving others, Loving learning
Our vision
Our school aims to nurture students who inquire, learn and shine God's light by living like Christ
Our mission
To provide a Christ-centred, inclusive community where, quality education inspires and equips lifelong learners to serve in God's world
Our values
We seek to operate by the values shared by all Lutheran schools in Australia as expressed in the Lifelong Qualities of Learners document lived out in our context and community. These values are: love, justice, compassion, forgiveness, service, courage, humility, hope, appreciation and quality.
The focus values that the school community believes are most important and align best to our school context are:

Compassion

Forgiveness
Service
Courage
Our aims
To provide students with a comprehensive program of education that is conducive to the development of their talents and skills for responsible Christian living and service
To encourage students to strive for excellence in learning according to individual ability
To help students value themselves as persons created in the image of God, redeemed by Christ, and made members of his body, the church, and to express their new life in Christ in their relationship with God and others
To include as a core part of the program, a Christian Studies curriculum which has been deliberately and consciously taught from the perspective of confessional Lutheranism
To provide an alternative to a secularistic, humanistic philosophy and practice of education
To promote the spiritual life and development of the school community through regular worship, study of the Scriptures and pastoral care
To assist parents in the fulfilment of their God-given responsibilities to their children
To assist the State in providing it with responsible citizens equipped to contribute positively to the communit
Our Statement of Democratic Principles
Sunshine Christian School is committed to the principles of a liberal democracy
We believe in an accountable, democratically elected government.
We respect and observe the rule of law, and believe that no person is above the law.
We believe in equal rights for all before the law, regardless of race, ethnicity, religion, sexuality, gender or other attributes.
We believe not only in the freedom of religion, but also the need to practice tolerance and understanding of others' beliefs.
We believe in the value of freedom of speech and freedom of association, but also acknowledge that we have the responsibility not to abuse this freedom.
We believe in the values of openness and tolerance, and value and respect all members of the school community regardless of background.

"Loving God, loving others, loving learning"